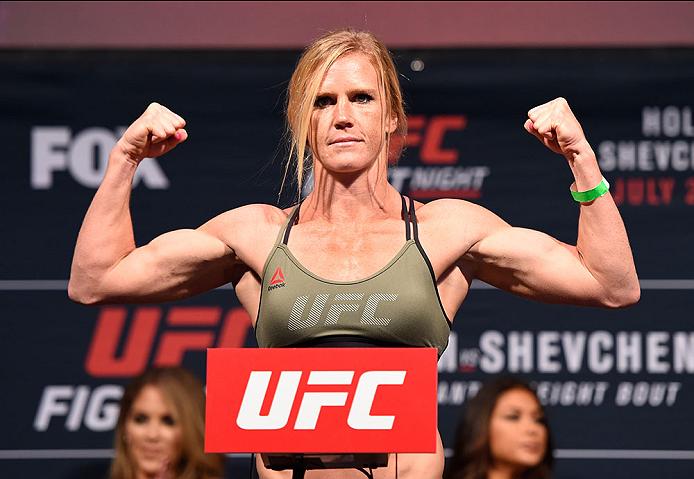 Holly Holm For the Win
Imagine waking up every morning and heading to the gym. Something you do pretty much every day. Only this time you're going to the gym as your job. You eat, sleep, and breathe training. That's just the first step of being a UFC fighter. They hit the gym every day, and they hit it hard. They also eat extremely well-balanced diets and study their opponents to a fault. This is all part of the process to become the greatest and win the belt. Holly Holm knows this process all too well.
Holm was once the Women's Bantamweight Champion; defeating the unstoppable Rhonda Rousey. Standing at 5'8" and weighing in at 135, Holm is one of the most notable names in the sport. She has only lost three times as a UFC fighter and is looking to advance her 11-3-0 record this December. Holm will face Cris Cyborg for the Featherweight belt.
Although she's nicknamed "the Preacher's Daughter," her strike says the opposite. She shows up to win and her kickboxing skills are bar none. She dominates in the Octagon with a powerful punch and every once in a while, a powerful takedown. She's going to need both to win over Cyborg. Not only does she land 35% of her strikes, she defends 61% of strikes that come her way. This defense will be key against Cyborg who lands 59% of her strikes.
Here's a further breakdown of Holm's skill set:
Be A UFC VIP
Looking to see Holly Holm in action? Join us for UFC 219 in Las Vegas December 30! Reserved weigh-in seats, private VIP hospitality, and an Octagon Experience are just a few of the UFC VIP Experience perks. You'll enjoy the best food and open bar in T-Mobile before the main card. Sit back and relax as fighters mix and mingle with the VIP Experience guests throughout the party. Want in? Click below or call 855.827.5531