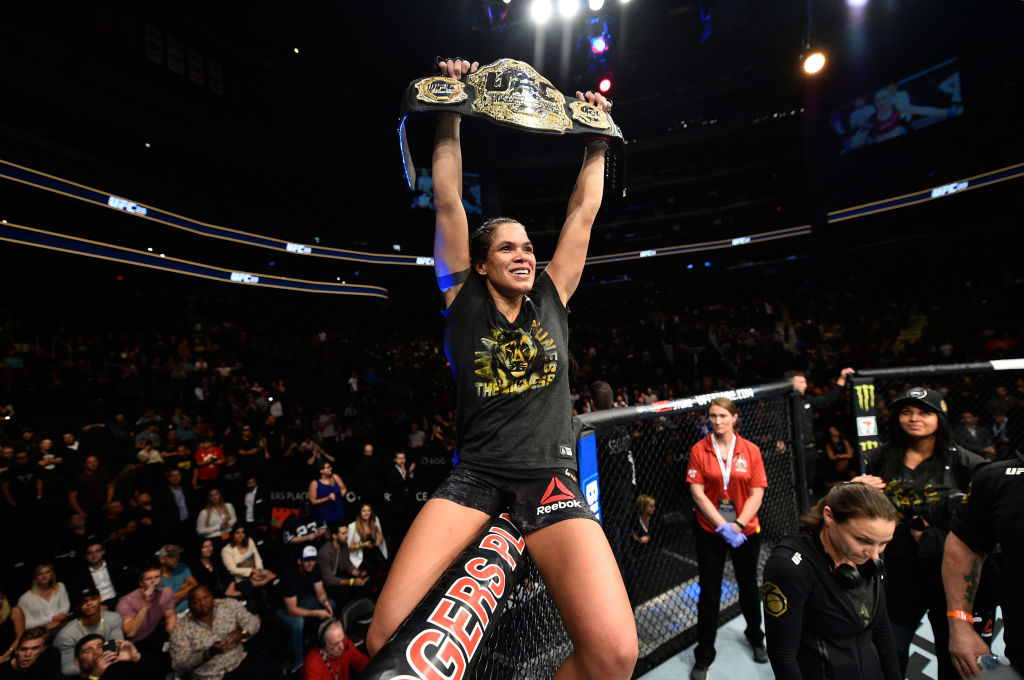 Doubts about the UFC 215 event spread like wildfire after the announcement of Ray Borg pulling out (illness) of the main event against Demetrious Johnson. It didn't matter because Rogers Place was the place to be!
Friday Night Weigh Ins
Let's start with the Friday night weigh-ins! Every fighter looked fantastic with no signs of fatigue. The respect during the face-offs between the fighters was great to see and really set the bar for sportsmanship in combat sports. Our VIP guests were front and center for all of the weigh in action and a behind-the-scenes tour. You never know who's going to pop up on a tour and this group had the great fortune of meeting Stipe Miocic and Nate Diaz (who is rumored to be fighting McGregor later this year).
Saturday Night Fights
Saturday did not disappoint as the main card opened with Jeremy Stephens vs Gilbert Melendez. Melendez fought bravely as Stephens opened with leg kicks that caused some major structural damage that prevented Melendez from putting weight on his left leg. Gilbert battled back with some nice counters and more aggressive combos, but alas Jeremy came in with another solid low leg kick that sent Melendez back to the canvas. Stephens claimed victory by Unanimous decision.
Next up was Ilir Latifi vs Tyson Pedro. These two guys hang out at the lower end of the top fifteen rankings, but fought as though there was a title on the line! Pedro kept the fight at a distance by throwing long range kicks; however, it wasn't enough to stop Latifi. Eventually, Latifi caught one of Pedro's kicks and scored a double leg takedown. From there the fight slowed as both fighters took swings at each other back and forth. Latifi then started using his strength and kept Pedro at the fence scoring another takedown and punishing Pedro with punches every time he scrambled to his feet. Latifi won by unanimous decision.
Henry Cejudo vs Wilson Reis was fantastic! Cejudo proved he is still in there for title consideration! Cejudo dominated the first round with a couple of takedowns, but his combos were what got the crowd cheering. The biggest takeaway was Cejudo's fantastic kickboxing which set up an early end for Reis. Reis ate a solid right hand that sent him to the canvas and the follow-up punches forced the fight stoppage. Cejudo won by KO in the second round.
The co-main event was a blast, but short-lived. Rafael Dos Anjos looked healthy at his new weight of 170lbs. He made quick work of Neil Magny despite his height and reach disadvantage. Magny came out strong with a stick and move strategy, but Dos Anjos used a strong sweeping kick that sent Neil to the mat early. Magny repeatedly tried to defend and explode back to his feet, but Dos Anjos used it to his advantage and went into mount. After elbow bombs from Rafael, Neil tried to escape giving up his back. Rafael immediately moved to apply a tight arm triangle. Dos Anjos took it in a Round 1 Submission.
The main event was as electric as the first time these two ladies met. Amanda Nunes and Valentina Shevchenko started the fight scoring points with small combos; Shevchenko mostly throwing counters. Lots of back and forth with most of the heavy hitting coming from Shevchenko. Flurries were thrown by Shevchenko pretty much anytime Nunes fired a kick or punch. In my opinion, the fight was very even, almost leaning towards Shevchenko until the final round when Nunes had success at takedowns. Even while on her back, Shevchenko was delivering shots to Nunes' head. Shevchenko was precise in her shots and was clearly the more efficient fighter of the bout, but the judges didn't see it that way and awarded Nunes the win via split decision.
The Party Continues
While the fights were amazing, the real party was just before the main card in our VIP hospitality room! Our VIP guests mingled with a laundry list of UFC Fighters, Personalities, Octagon Girls:
- Megan Olivi (Personality)
- Luciana Andrade
- Chrissy Blair
- Vanessa Hanson
- Sergio Pettis
- Yair Rodriguez
- Cain Velasquez
With an open bar and gourmet food buffet, there was no better way to prepare for this night. We even caught Yair Rodriguez and Cain Velasquez going head to head on the X-box! Once the fights were over, our guests took a stroll through the Octagon™ and snapped a few pictures! Being a VIP never disappoints.
Be A VIP
Join us for the next fight as a VIP! You'll enjoy meeting fighters, the gourmet buffet, and cheering from the best seats in the arena. Take your pick from four upcoming fights:
| | | |
| --- | --- | --- |
| Fight | Date | Location |
| | Oct 7, 2017 | Las Vegas, NV |
| | Nov 4, 2017 | New York, NY |
| | Dec 2, 2017 | Detroit, MI |
| | Dec 30, 2017 | Las Vegas, NV |
Call us today at 855.827.5531 to get your Official UFC VIP Package or click the link below!
Written with assiatance from Mark Rhodes