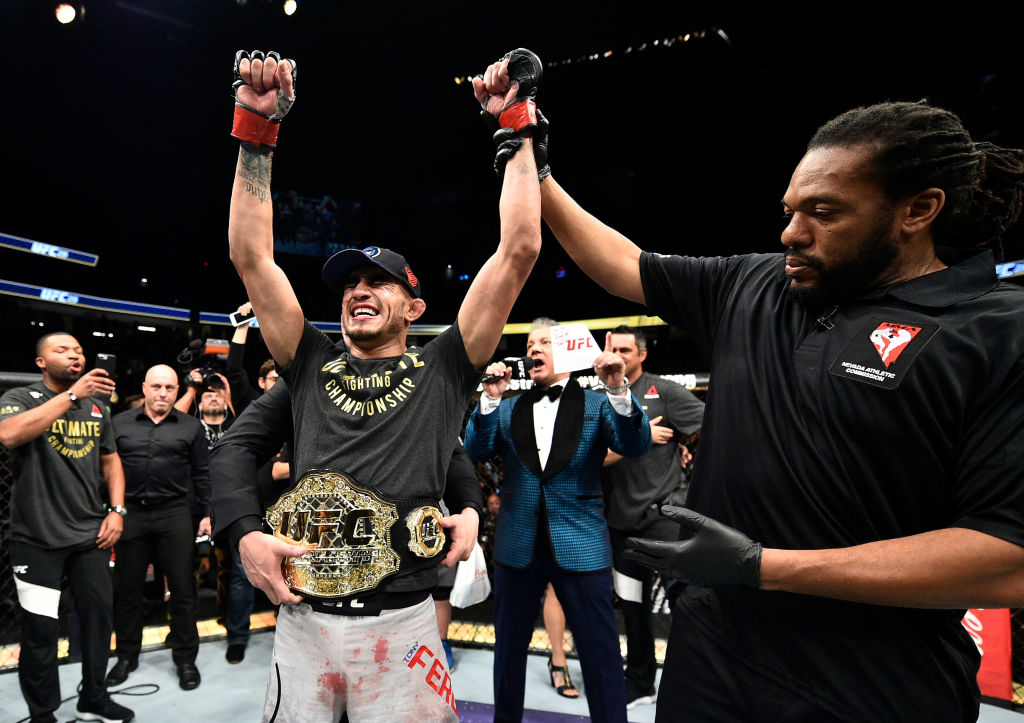 UFC 216 was one of the most intense nights we've ever been a part of in Las Vegas! The fight card did not disappoint! We saw history, weight issues, and so much more over the weekend. Our VIP guests truly enjoyed every second of their experience. From the UFC 217 press conference to weigh-in, to the main card, the UFC really put on a show. Let's look at the results and what happened in hospitality!
UFC 216 Results
While every fight was spectacular, our resident UFC expert, Darragh Farrelly, gave us a breakdown of the top two fights of the night.
As far as finishes go, you will go some way to try and find one better than Mighty Mouse's at UFC 216. A mid-air switch from German suplex to an armbar is one of the greatest and coolest finishes a UFC title fight has ever seen on Ray Borg. Now a record holder with 11 consecutive title defenses, Demetrious Johnson cemented his place in the pantheon of UFC greats against a game competitor.

Perhaps the only viable move for DJ is a move up in weight to take on the winner of Garbrandt and Dillashaw.

The most poignant store that arose from a city still just six days over its greatest tragedy was one we have seen all too many times; the issue of the weight cut. Ahead of the biggest fight of his career, Kevin Lee shouldn't have been allowed to make the walk. Concealing an infection from officials, the Motown Phenom looked defeated, highlighting himself how he nearly died in making 155.

With that being said, he showed true grit by shining in the first round of his interim lightweight title fight against Tony Ferguson. He began to wane by the second before a Ferguson onslaught put paid to his hopes in the third with a triangle choke. In Ferguson, the UFC's most highly competitive division has found a deserving champion, and a red panty night awaits El Cucuy in a unification bout with the company's biggest star, Conor McGregor.
UFC 216 VIP Experience
Our VIP's had quite a weekend starting with the UFC 217 press conference. With reserved seats, we could not have asked for a better view of the presser and boy were the fighters ready to verbally rumble. This was followed by the UFC 216 weigh-in where the stare-downs were deadly and the smack talk was brutal.
Saturday started off with a bang in VIP hospitality! We had Joseph Benavidez, Joe Moreno, Megan Olivi, Khalil Rountree, Francis Ngannou, Justin Gaethje, and the champ himself, Cody Garbrandt stop by. While our guests devoured our delicious buffet, the fighters mingled and took photographs with some of their biggest fans. The fans were able to watch the prelim fight from hospitality before the main card started. Once the main card started, no one wanted to leave their seats as history was made.

Do you want to be a VIP?
Join us for UFC 219 in Las Vegas as we say goodbye to 2017! As a VIP, you have the best seats, reserved seats to the weigh-in, access to the VIP hospitality, and much more! Click below or call us today at 855.827.5531!